Dreamcast Portable 3: the New Handheld Champion
---
We've featured a variety of SEGA Dreamcast portable mods over the years, and up until now, I thought this one from China was the best. But you've got to hand it to modder Techknott. His portable is super slick, and I think it's my new favorite Dreamcast portable. (No, the Dreamcast Boombox doesn't count.)
One look at Techknott's Dreamcast portable, you can tell this guy knows his way around casemodding. Of course, it doesn't hurt that this is his third generation Dreamcast portable. The handheld has a custom-made CNC acrylic case with MDF walls, and a built in original Dreamcast control pad on front and triggers on back. The display is a PSone LCD, and if you look carefully under the screen, you'll notice he's even built in an a VMU (in addition to a removable VMU slot). The CD player is mounted on back for playing original discs, while there's an SD card slot in front – presumably for playing games stored in flash memory.
He's even managed to keep two additional controller ports, and a multi-A/V output for playback on a big TV too. Of course, the whole point of building one of these is to play Dreamcast on the go, and with 4500mah of battery power under the hood, Techknott can play without wires (although he hasn't yet revealed how long the batteries last). You can check out Techknott's Dreamcast Portable 3 in action in the video clip below: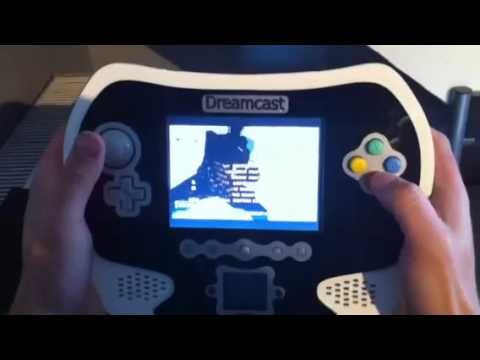 …and for more discussion with Techknott on his excellent Dreamcast build, head on over to the Ben Heck Forums.
---
---
The Tablecloth Hour: Weird Japanese Game Du Jour
The Mega Man Megaposter
---
---
---
Comments (3):