Titanium Drinking Straws Laugh In the Face of Plastic Straws
---
Continuing in the tradition of geeky items none of us really need, the guys over at ThinkGeek have dug up another goodie – the titanium drinking straw. Yep – just what every one of us nerd-dorks needs – a straw made out of metal!
It's made from sturdy, food-safe titanium, and because of its poor thermal conductivity, will let you sip hot or cold beverages without the straw being adversely affected by the temperature. While you may think that a titanium straw might only be a way to replace a bunch of cheap plastic straws, you should take pause to think of the possibilities. Can your plastic straw do this?…
Not only will you have a metal straw you can keep forever, you can use it to piece through fruit, milk cartons and even aluminum cans without so much as flinching.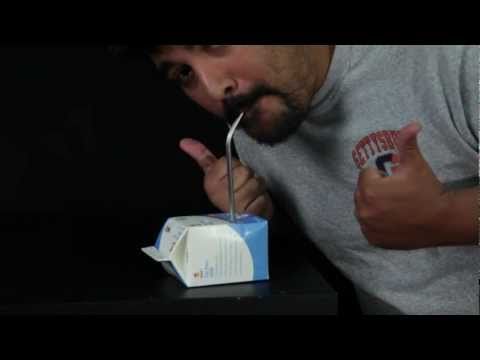 You can grab yourself a titanium straw over at ThinkGeek for $15 (USD) a piece. Sure, you could buy nearly 1500 plastic straws for the same price, but you wouldn't be nearly as cool… unless, of course you made something like this out of the 1500 straws:
---
---
There Are Actually Full-Blown Counterfeit Apple Stores Now In China? Seriously?
DIY LEGO Key Holder is Simple, Ingenius
---
---
---
Comments (1):