I'm a big fan of Fallout 4 and have spent many hours playing the game. One of the weapons you might recognize from the game is this Tesla Rifle. This replica was made by and was made by Wasted Props, and looks like someone stepped right out of the game with it.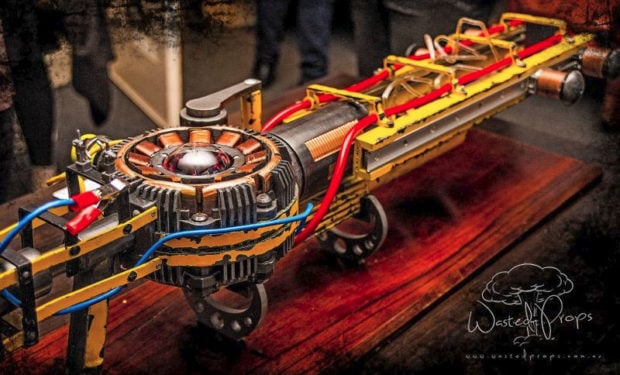 The weapon even spins and charges like it does in the game before it fires. In the center of the spinning bit is one of those Sharper Image plasma balls I used to want so bad back in the '80s. The rifle is over 40-inches long and looks to be very well made.
Unlike many of the cool replicas we see, there are lots of videos of what exactly it took to build this thing:
So I have EMF issues with the plasma ball triggering the motor, as the wires run past the plasma ball to the arduino. When the ball is off it works fine. Shielding come at me bro!!!

Posted by Wasted Props on Sunday, April 30, 2017
Finally got to do a proper test with the plasma ball on the tesla rifle. Just need to mount up a motor to drive the rotor.

Posted by Wasted Props on Tuesday, April 25, 2017
#progress !!! Used a different #speed #controller tonight and a #conservative #tune. This is looking to be the right setup for what I'm looking for. A little more #tweaking and that will do the trick.

Posted by Wasted Props on Wednesday, March 8, 2017
Amazing build!
[via Kotaku]