Superplexus Vortex Puzzle Makes My Head Spin
---
As its name implies, the Superplexus Vortex is a super-sized version of the Perplexus, a plastic spherical maze. The Superplexus Vortex not only has a catchy name, the mere sight of it is probably enough to make a drunk man vomit. In marketing speak, the gigantic maze is "a complex network of chicanes, multi-planar hairpin turns, spirals, and staircases – even a vortex."
At least the path has arrows. As far as I know (and that's not a lot, believe me) each Superplexus Vortex was handmade by a man named Michael McGinnis (he's the smiling bearded dude shown below).
The acrylic sphere containing the maze measures 36″ in diameter and can be tilted in any direction, and you'll definitely do a lot of tilting (and swearing) as you try to roll the steel ball from the start to the end of the maze.
Here are some more daunting facts about the Superplexus Vortex: "The entire track laid out on a straight line is 31′ longer than a football field. In addition to the track, the ball must travel on a 1/16″ diameter stainless steel wire pathway at eight points along the journey… successful completion requires a minimum of 425 turns (plane changes) of the sphere–without letting the marble fall off the track." In other words, you'll never beat this puzzle.
But perhaps the most difficult aspect of the Superplexus Vortex is its price – Hammacher Schlemmer is selling it for $30,000 (USD). As a consolation, the store does claim that you can adjust the difficulty for your own Superplexus Vortex. Then again, what good is a $30,000 maze if you can solve it in a minute?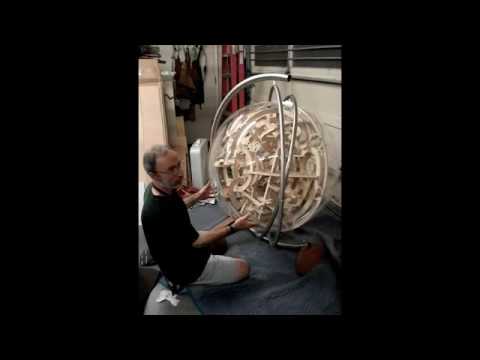 [pics via Michael's wife aka thesingingbird's photostream]
---
---
Get 1tb of Storage for You Xbox or PS3 With Datel'S Space Dock
Firescuba Smoke Filter: Pocket Gas Mask
---
---
---